Dallas Cowboys Stadium Tours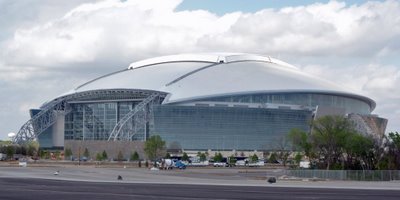 Now that this majestic building is open, Dallas Cowboys Stadium Tours are growing more and more popular by the month. Even though there's been no marketing campaign to promote the new Dallas Cowboys Stadium as a tourist destination, it has definitely become that. So if you plan on visiting, here's what you need to know:

DATES & TIMES
Event scheduling (Dallas Cowboys football games, concerts, soccer games, conventions, etc.) will largely determine what days tours will be available. That changes constantly, so if you want to tour Dallas Cowboy Stadium, make sure and call ahead, so that you don't waste a trip.
Except for specifically blacked-out dates (when events are involved), "normal" tours are given 7 days a week. On Mondays – Saturdays, they run from 10 am – 6 pm, with the last tour departing at 4:30. On Sundays they're given from noon – 5 pm, with the last tour departing at 3:30.

TOUR HIGHLIGHTS
The stadium operators do not guarantee that all of the following destinations will be seen on all Dallas Cowboy Stadium Tours (they are "subject to change without notice"), but most of the time you will be able to visit:

• The Press Box
• The Player Interview Room
• One of the Luxury Suites
• The Scoreboard Control Room
• Silver Level Platform
• The Pro Shop

Not surprisingly, two of the most popular and asked-about tour destinations are:

• The Cowboys Locker Room, and
• Field Access

Field Access is limited and not guaranteed, and the Cowboys Locker Room will be on the tour "if accessible". Again, when you call to confirm the tour times for the day you plan to visit, ask if these two destinations will be included. If they're not, ask about other dates and times. If you're flexible, you should be able to find a tour where these are included.

COST
Individual prices for Dallas Cowboys Stadium Tours are as follows:

Adults (13 – 65): $15*
Seniors (over 65): $12*
Children (ages 5 -12): $12*
Children under the age of 5: Free

Group Prices (20 or more visitors):
Adults: $12*
Seniors: $9*
Children: $9*

* Please note that tour prices are also subject to 8% Sales tax and 10% Arlington Admissions Tax.
Individual tickets can be bought the day of the tour at the Stadium Pro Shop (north side of the stadium, Entry A, Gate 1, off of Randol Mill Road).


RESTRICTIONS & OTHER INFORMATION
Here are a few things you should know before you tour Dallas Cowboy Stadium:

• Video recorders are not allowed.
• Cameras are allowed.
• The tour lasts approximately 1 hour and 15 minutes.
• As of now, you cannot reserve individual tours.
• The day before any game or event, tours end at noon.
• There is no smoking allowed inside the new Dallas Cowboys Stadium.


If you have questions about Dallas Cowboys Stadium Tours, call them at: 817-892-8688


Return from Dallas Cowboys Stadium Tours to Dallas Cowboys Stadium